Flexible | Convenient | Gratifying
Imagine a home that always has everything you need, is impeccably kept, and does not require you to lift a finger. As utopian as it may sound, it is just what Cygnett Residences has to offer: The comfort and convenience of a home combined with the service, efficiency, and high maintenance standards of a hotel. A home without any hassle. On consideration, that really is our idea of utopia, or is it not?
Flexible.
Offering short and long-stay options customized to suit your requirements, Cygnett Residences provide a home made-to-order. The freedom to decide the length of the stay and the facilities desired lies entirely with the guests; only the fulfillment and satisfaction are the responsibility of Cygnett Residences.
Convenient.
A signature Cygnett assurance, convenience is prioritized at Cygnett Residences: the convenience of location, provision of amenities, and efficient operations. Further, the team at Cygnett Residences is always just a call away to assist guests with anything that they may require.
Gratifying.
Cygnett Residences combines the best of professional hospitality with the unmatched comfort of a home to create a space that offers space, freedom & convenience in one winning and very affordable package.
---
Brand Basics
Positioning:
Midscale, select service, select service apartments located at prominent locations of capital & metro cities with necessary home amenities.
Target Audience:
The discerning guest who looks for reliability in terms of convenience, standards & provision for good facilities.
Ethos:
Homes without hassles – space, freedom, comfort, and flexibility to the patron's advantage.

Value Proposition:
Providing flexible short & long-stay options in convenient locations with top-of-the-line facilities.
Selling Line:
Your home away from home.
Why Cygnett Residences ?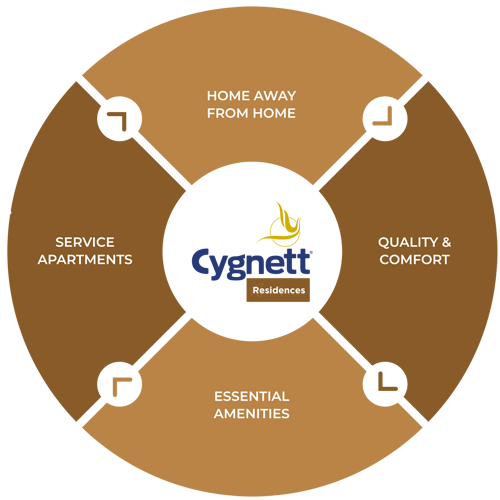 Hotel Exterior
Suite Room
Dining
Request For Brand Fact Sheet